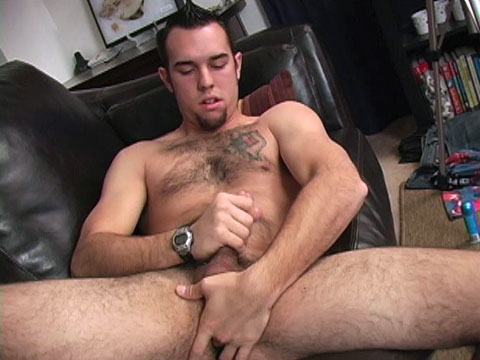 Watch the full scene:
Join Now!
James is a str8 guy living here in San Diego who just got out of the Navy and thought he'd have a go at making porn for a while. This was his very first time on camera, though, so he was a little bit nervous at first. It didn't take but a minute for him to ease up and he really gets into showing off for the camera.
He's a Texas guy and has his home state tattooed on his chest (Rowr! That hairy chest!) He's picked up snowboarding since moving to Cali and heads up to the mountains any chance he gets. He's also got a girlfriend who has no idea he's doing this. And hopes she never finds out. I promised him I wouldn't tell.
One thing especially hot about James is that he loves to stick a finger up his ass when he jerks off, and is definitely not shy about it. He really gets into when he cums, making all sorts of noise and shooting big squirts up his chest. I was so impressed that I booked him for another shoot right on the spot.
Tags: Hairy