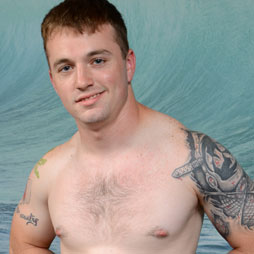 Age: 19
Height: 5' 7"
Weight: 170
Shoe: 9 1/2
Cock: 6" x 5"
Orientation: Straight
Occasionally, when I meet a new guy, they're a little skeptical about whether or not things are "legit," as if being offered a porn gig is too good to be true. Charlie was one of those guys; at least at first. When he showed up for his shoot and saw all the lights and cameras and assorted equipment waiting, he made a funny comment about how we're "definitely not kidding around."
After seeing his gi-normous cumshot, I pretty much said the same thing to him!
Patience was key with Charlie. It took seven months to get him in front of the cameras, but I'm not sure how long (if ever) it'll be before he makes another appearance. For having fantasized about doing porn for so long, once seemed to be enough for him. But who knows? It might take another year or two, but his exhibitionist bug may start itching again. I'll be patiently waiting.