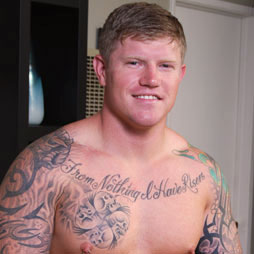 Age: 26
Height: 5' 9"
Weight: 205
Shoe: 9
Cock: 5 1/2" x 5"
Orientation: Straight
Carter is So. My. Type.
I hope he's yours, too! Nothin' like a little beef in your diet. (My apologies to the vegetarians/vegans among you... you can still look, right?)
Needless to say, I'm gonna be working overtime to bring him back for some more personal and intimate attention.
Keep your fingers crossed!
Tags: Blond, Muscular, Stocky/Husky, Redhead/Ginger
Videos
Photos